Who are we?
We are a group of young, motivated people with a personal connection to Bolivia. All of us worked in Oruro between 2015 and 2017 as part of a one-year voluntary service – or as permanent employees – with our partner organisation. The "Programa Renovación Madre Niño" (Renovación for short) is active in child and youth development. Convinced of the work and impact of Renovación, our contact with Bolivia never broke off. When we found out that the organisation would no longer receive financial support, we decided to found Yana Paña e.V.. Through our voluntary work, we strive to ensure the continued existence of the institution.
What do we stand for?
We advocate for a society in which the rights of children are recognised and respected. Additionally we are firmly committed to the values of a solidary, tolerant and non-violent coexistence. We want to enable access to qualitative, free education for all children. Our cooperation with Renovación sustainably opens up more future perspectives and opportunities for people in Oruro.
For us, the Programa Renovación Madre Niño represents a place of encounter that enables a pluricultural exchange without any form of discrimination. Our cooperation is based on mutual respect and takes place on an eye-to-eye level, which we constantly examine in self-reflection.
Our mission: What do we do?
We are committed to ensuring that Renovación can remain open:
As a non-profit organisation, we raise funds to support the work of our local partner organisation. Renovación offers children, young people and families in precarious living conditions a safe space. The kind if work in which they are supported in accordance with their needs. With our contribution we intend to ensure sustainable support for children and young people in Oruro in the present and future. In addition to financial support, we are in close contact with those responsible on site with regards to the conception of existing and new projects.
You can read more about what Renovación does here:
As a small, newly founded non-profit organisation, our first goal is to support Renovación with the monthly salary of a staff member. This enables us to maintain the functioning of the centre, the planning and implementation of projects and activities as well as the care of the children and young people.
Initially, we pay a minimum wage in accordance with Bolivian law. So even a small donation of five euros per month makes a significant contribution!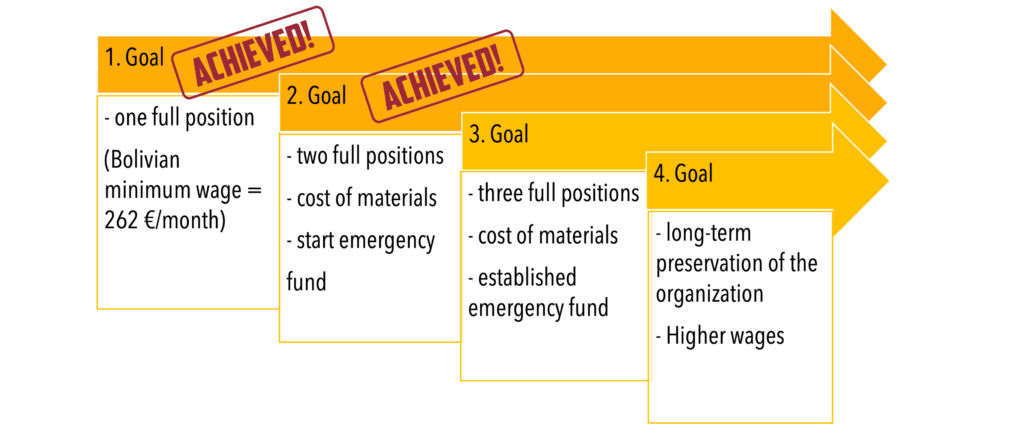 However, we are still a long way from reaching our goal: at least three full staff positions must be paid on a permanent basis. Since there are no other sources of funding so far, we are striving to be able to take over the other two positions in the future. Perspectivly we would like to be able to pay salaries above the minimum wage, which is quite low – even by Bolivian standards.
Furthermore, the implementation of projects on site regularly incurs specific costs, such as for writing materials and snacks. Due to the Corona situation, hygiene articles such as masks and disinfectants are essential as well.
We also want to donate part of the proceeds to the project's emergency fund. If a family or person faces great hardship we want to be able to support them financially. Emergencies would be i.e. financial difficulties which make people unable to provide for their own basic needs or unforeseen medical treatments.
Yana Paña – what does our name mean?
Yana Paña is Aymara and translates as support, help, cooperate. The name is meant to express our solidarity and connection with our partner organisation in Oruro. Along with Quechua, Aymara is one of the two most spoken indigenous languages in the Andean region. It is the native language of many of the organisation's families.